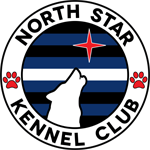 Welcome!
The North Star Kennel Club is devoted to the human-pups and -pets, their handlers, and those that love them. This is a place for pups, pets, handlers and people curious about pup and pet play in Minnesota and the Midwest. We are located in Minneapolis and strive to educate people about what pup and pet play is, as well as have a family of friends where they can be comfortable about this fun type of play.
The Club is open to pups, pets, handlers and those wishing to learn about human-pup play who are 18 years of age and older.
What is human-pup and -pet play?
Human-pup and -pet play is where a human takes on the persona of a biological puppy or other pet and behaves accordingly. So playing fetch, playing with chew toys, being playful with a handler and/or other human-pups and -pets, and various other pet behavior. Traditionally handlers and/or trainers are involved to assist pups and pets with their gear, getting in and out of headspace, tend to any minor medical concerns, help train pups and pets to learn verbal (puppy and pet sounds) and non-verbal communication skills to be used while in headspace.
Announcement Regarding Upcoming NSKC Events
Minneapolis, Minnesota (Friday, March 13, 2020)
Due to the outbreak of COVID-19 (the novel coronavirus), concerns have been raised regarding public social gatherings. As part of the State of Minnesota's declaration of a peacetime state of emergency this afternoon, it was strongly suggested that large gatherings where close contact is unavoidable be canceled or postponed.
The Executive, Mosh, and NSPAH Contest Committees of the NSKC Lead Pack have reviewed available health information and discussed the matter at length. Out of an abundance of caution for the health and safety of our community (including our members, contestants, contest judges, and other guests at our events), we have decided to take the following actions:
Tomorrow's Beer Bust at the eagleBOLTbar is being canceled.
All events of the 2020 North Star Puppy and Handler Weekend are being postponed indefinitely.
The April Public Mosh, which would have taken place during the 2020 North Star Puppy and Handler Weekend, is being canceled.
The Lead Pack will be discussing additional measures that it can take going forward to ensure our members' and guests' health and hygiene at moshes and other public events. This discussion will occur at our meeting this coming Wednesday. We hope to have these measures ready for when we decide to resume our moshes and other events.
We will continue to monitor the public health situation closely. We hope to resume our normal event schedule, including the North Star Puppy and Handler Weekend, as soon as practicable.
We appreciate your patience as we work through this unprecedented situation. We also apologize for any inconvenience this might pose. As always, please reach out to us via email, Facebook, or Twitter if you have any questions or concerns.
On behalf of the Lead Pack,
Pup Minutes
Chairpuppy
North Star Kennel Club
March Lead Pack Meeting Canceled
Based on the current situation, the Lead Pack has opted to cancel its March Business Meeting. We will keep you posted here, on Twitter (@NStarKennelClub), and our on Facebook of additional developments.
We thank you for your continued support. We also hope that you are safe and healthy. Be kind to yourselves and to each other.