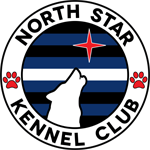 Welcome!
The North Star Kennel Club is devoted to the human-pups, their handlers, and those that love them. This is a place for pups, handlers and people curious about pup play in Minnesota and the Midwest. We are located in Minneapolis and strive to educate people about what pup play is, as well as have a family of friends where they can be comfortable about this fun type of play.
The Club is open to pups, handlers and those wishing to learn about human-pup play who are 18 years of age and older.
What is human-pup play?
Human-pup play is where a human takes on the persona of a biological puppy and will behave accordingly. So playing fetch, playing with chew toys, being playful with a handler and/or other human-pups, and various other puppy behavior. Traditionally handlers and/or trainers are involved to assist pups with their gear, getting in and out of pup headspace, tend to any minor medical concerns, help train pups to learn verbal (puppy sounds) and non-verbal communication skills to be used while in pup headspace.
NSKC to Purchase New Mosh Mats
One of the most important pieces of any puppy mosh are the mats the puppies play on. The North Star Kennel Club's current mosh mats have seen several years of service. Our new Mosh Committee chair, PupKey, made it his mission to find a suitable replacement for our members and other mosh participants. That mission is about to become a reality.
The Lead Pack voted unanimously to replace its current mosh mats with 400 square feet of new mats at its April 2019 meeting. The new mats will be one-inch thick – significantly thicker than the set currently used. 300 square feet of the mats will be blue. The remaining 100 square feet will be dedicated to the Quiet Zone and be black in color. Carrying cases will also make it easier for us to setup and take down future.
Thanks to the generosity of an anonymous donor in the community, the NSKC is only paying half the cost of these mats. Whoever you are, anonymous donor – THANK YOU!
These mats are also thanks to your membership dues, the funds collected at moshes from non-members, and funds raised at our events. THANK YOU for your continued support!