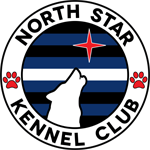 Welcome!
The North Star Kennel Club is devoted to the human-pups and -pets, their handlers, and those that love them. This is a place for pups, pets, handlers and people curious about pup and pet play in Minnesota and the Midwest. We are located in Minneapolis and strive to educate people about what pup and pet play is, as well as have a family of friends where they can be comfortable about this fun type of play.
The Club is open to pups, pets, handlers and those wishing to learn about human-pup play who are 18 years of age and older.
What is human-pup and -pet play?
Human-pup and -pet play is where a human takes on the persona of a biological puppy or other pet and behaves accordingly. So playing fetch, playing with chew toys, being playful with a handler and/or other human-pups and -pets, and various other pet behavior. Traditionally handlers and/or trainers are involved to assist pups and pets with their gear, getting in and out of headspace, tend to any minor medical concerns, help train pups and pets to learn verbal (puppy and pet sounds) and non-verbal communication skills to be used while in headspace.