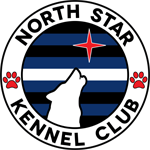 Privacy Policy
The North Star Kennel Club (NSKC) collects data in an attempt to ensure we are able to provide our members the best possible experience. This policy outlines our practices regarding the collection, use, maintenance, and disclosure of personal data for members and former members.
Information Collection
NSKC collects several types of information for various purposes to provide and improve your experience as a member.
Personal Data
When applying for membership with NSKC and at any time while a member, we may ask you for certain personally identifiable information which could be used to identify or contact you. This currently includes, but is not limited to:
Legal name
Persona name
Date of birth
Phone number
Email address
Address (including State/Province, City, and ZIP/Postal code)
Emergency contact name and phone number.
Anonymous Data
NSKC occasionally does anonymous surveys to improve your experience as a member. This anonymous data is used to improve our service to you.
Photographs
During our events, NSKC often has photographers. During our events we may take photos. Those photos are the property of NSKC. Your attendance at a NSKC event represents your consent to being photographed. We will endeavor to announce when taking photographs that are intended be used on our website, social media posts, newsletters, or other communications.
Minors' Privacy
NSKC does not accept membership from anyone under the age of 18.  We do not knowingly collect Personal Data from anyone under the age of 18.  If you are a parent or guardian and you are aware that your child has provided us with personal data, please contact us at membership@northstarkennelclub.org. If we become aware that we have collected data from a minor, we will take steps to remove that information.
Use of Information
NSKC uses this data for various purposes including but not limited to:
Maintaining our membership database (current and former members)
Maintaining our email list
Notifying our membership of events, meetings, etc.
Verifying access to members-only benefits (e.g., event discounts, member-only merchandise, etc.)
Analyzing current and former membership
Verifying eligibility to nominate and vote in Lead Pack elections
Information Maintenance
Storage/Transfer of Information
Your information, including personally identifiable information, is stored in a secure cloud-based drive and maintained on computers that may be located outside of your state, province, country or other jurisdiction where the data protection laws may differ from those of your jurisdiction. As a Minnesota State organization, we comply with Minnesota State and United States federal data protection laws which may differ from those in your jurisdiction. If you are located outside Minnesota or the United States, please note that we transfer the information to the United States and process it there. Your submission of such information represents your consent to our privacy practices. NSKC takes all steps within reason to ensure your information is treated securely and in accordance with local regulations.
Data/Information Security
Your information is important to us but please remember that no method of electronic storage or transmission over the Internet is 100% secure. While we strive to ensure your privacy, we cannot guarantee its absolute security.
Disclosure of Information
Legal Requirements
NSKC may disclose your Personal Data or maintain separate files in the good faith belief that such action is necessary to:
To comply with a legal obligation.
To protect the personal safety of our members, event attendees, and volunteers.
To prevent or investigate possible wrongdoing in connection with NSKC.
To protect and defend the intellectual and physical property or rights of NSKC.
To protect NSKC against legal liability.
Communications
NSKC sends our regular communications via email as well as through various social media platforms and our website. We do this to keep you updated on our events and organizational updates. We will attempt to utilize a persona name, if available, if you are mentioned in any of our communications.
Committees
To ensure that our organization is operating optimally, your Personal Data may be shared with members of specific Committees. This is only done if needed for operation of said committee and is not granted to all committee members.
Partner Organizations / Events
NSKC works with other organizations for events and as such in relation to these events your Personal Data may be available to those involved in running events in form of attendee lists or other essential sharing.
Social Media
NSKC is not responsible for any identifying information that may be gathered or publicly available in relation to your interaction with our presence on any social media platforms.
How to Request/Update/Limit Your Information
Requests
All requests for ensuring accuracy of your membership information should be sent to membership@northstarkennelclub.org. We will respond within 10 business days. We may ask for clarifying information such as: name, address, member number, or other identifying information to ensure the safety of your information.
Updates
To update your information if something has changed please email membership@northstarkennelclub.org. We will update our information for you in a timely manner.
Limiting Information
You may opt out of being mentioned by NSKC in our regular communications by emailing us at membership@northstarkennelclub.org.  The exception to this is if you are elected to the Lead Pack (i.e., board of directors). In that circumstance, your legal name is considered public information due to the nature of our organization.
Deleting Information
At your request we can delete your membership information. This will end your benefits as a NSKC member.The process of deleting membership information can take up to ten business days. It can be initiated by emailing membership@northstarkennelclub.org.
Who Has Access to My Information?
The current NSKC Lead Pack are the only ones who have regular access to your information. It may be shared/accessed by others as outlined previously in this document.
Changes to Our Privacy Policy
We may update our Privacy Policy in the future. Members will be notified via email and on our website prior to any changes becoming effective.
Contact Us
Any questions regarding this Privacy Policy should be directed to membership@northstarkennelclub.org.Questions will be responded to within ten business days.