Welcome!
Woofs and barks to all!
Welcome to the second edition of the North Star Paw Print, the monthly newsletter for the North Star Kennel Club.  The North Star Kennel Club is a place for human-pups, handlers, and people curious about pup play in Minnesota and the Midwest.  We are based in Minneapolis and strive to educate people about pup play and provide a comfortable, accessible, and safe place to enjoy it.
It has been a busy month for the North Star Kennel Club.
As you will read below, Twin Cities Leather Weekend was a time of fun, celebration, and contemplation. We hosted two moshes, including a well-attended public mosh in conjunction with Kink U at Twin Cities Leather Weekend. We also co-sponsored the Pup Pawlympics in Iowa City, held a special Lead Pack election, and secured a host hotel for the upcoming North Star Puppy & Handler Weekend.
None of this is possible without our members. We hope you will continue to reach out to us as we begin putting together our plans for the rest of 2018 and beyond.

North Star Puppy & Handler Weekend Secures Hotel Room Block
We are happy to announce that we have secured a block of rooms for the North Star Pup & Handler Weekend at the Hampton Inn & Suites in Downtown Minneapolis (19 N 8th St). King rooms are $159/night. Rooms with two Queen beds are $179/night. Use this link to reserve rooms at this special rate.
The North Star Puppy and North Star Handler contests will be held at Minneapolis' EagleBolt Bar over the weekend of August 10-12, 2018. The contests will showcase the breadth of talent that exists within our Pup & Handler community. It is positioned to be the premier Puppy and Handler contest within the North Star Kennel Club's home region of Minnesota, Wisconsin, Iowa, South Dakota, North Dakota, Manitoba & Ontario.
Stay tuned to the North Star Paw Print, our website, and our Facebook page for additional updates on this exciting event!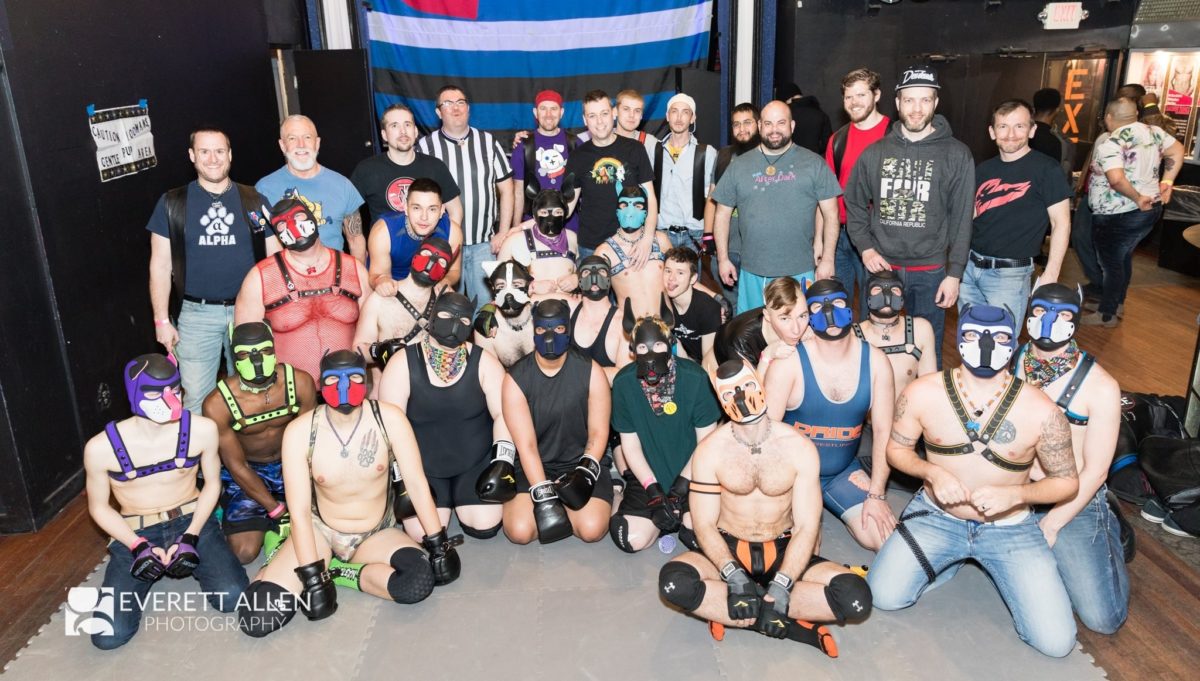 February Public Mosh at Twin Cities Leather Weekend 2018
by Pup Bruizer
The NSKC was thrilled to host our February Public Mosh in conjunction with KinkU at The Saloon on Saturday, February 17. Since our regular mosh would have fallen on Super Bowl Weekend, this was a fantastic opportunity to move the mosh to a better weekend and work together with the TCL Contest and KinkU!
We had over 65 people attend the mosh at The Saloon with lots of puppies and handlers participating, as well as quite a few spectators. Lead Pack Member Ash! conducted Intro/Puppy 101 training throughout the mosh for those new to the pup scene. Lead Pack members Wags and Xiao coordinated our efforts. We introduced referee jersey shirts for our official hoomins, responsible for keeping everyone safe and hydrated.
Huge thanks to everyone who participated! We are thrilled with the great turnout, and that so many had such a fun time!
Our next Public Mosh will also be something special. It will be held Saturday, April 7 during the Minnesota Leather Pride Contest Weekend. We will be holding it at the EagleBolt Bar to make room for contest activities. We can't wait to see you there!


Twin Cities Leather Contest Weekend 2018
linked article by Pup Bayard
Pup Bayard attended the 2018 Twin Cities Leather Weekend and associated events. He wrote an article about the Weekend and the new Mr. Twin Cities Leather, NSKC's own Pup Buster. Read the article in the Great Lakes Den.

Statement in Support of Twin Cities Leather & Latte
The following statement was made on February 20, 2018.
Members of the North Star Kennel Club were happy to participate in last weekend's Twin Cities Leather contest at The Saloon. The public mosh we hosted as part of the Titans of the Midwest's Kink U was one of the best attended we have held in some time. We were also proud when Pup Buster, the Club's Vice-Chair, won the title of Mr. Twin Cities Leather 2018. He will join another member of our Lead Pack, Randy Ingram-Lile, Mr. Minneapolis Eagle 2018, in representing the Twin Cities at the International Mister Leather competition in Chicago this coming May.
Our celebration this weekend became tinged with concern when the owners of Twin Cities Leather & Latte, the producers of the Twin Cities Leather Weekend, informed the community that their business has fallen on hard times. Their public statement on the situation can be found here.
In its five years of operation, Twin Cities Leather & Latte has become a community institution. Part coffee shop, part kink and leather goods store, part ad hoc community center, it has been incredibly supportive of the Twin Cities kink and leather community. This support goes well beyond the material support they have provided local and national organizations, including the Kennel Club. Their support of individual members of our community is just as strong, whether it be in providing a safe, sober space, or in providing donated clothing and personal items to those less fortunate.
In short, they exemplify their motto of "Community First".
In a time where our community finds itself under increasing attack, it is important that we stay strong and united. Twin Cities Leather & Latte is one of our community's strengths. The North Star Kennel Club is proud to stand with them as they work through their difficulties and toward a better future for themselves and our community.
We encourage our members to consider sharing the link for and/or making a contribution to the GoFundMe campaign that has been established in support of TCL&L.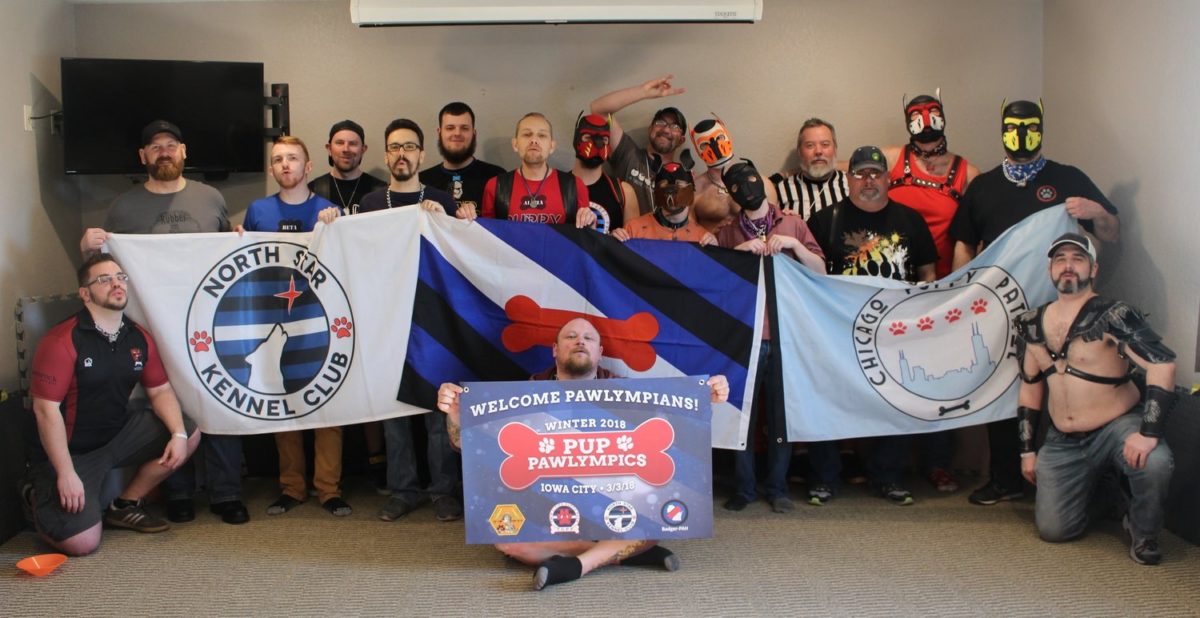 Pup Pawlympics 2018 at Sash Bash
by Pup October
North Star Kennel Club co-sponsored Pup Pawlympics held at Sash Bash in Iowa City, Iowa on March 3. The event was organized by Mal Orion, Iowa Puppy 2018, and Rob "Papa Bear" Anderson, Mr. Iowa Leather 2016. It was a upper-midwest regional gathering of human pups, pets, and handlers to socialize and participate in fun, lighthearted indoor sporting events. Other co-sponsors included IA-PAH, Badger-PAH, and the Twin Cities Puppy Pack. Chicago Puppy Patrol also was represented.
The headspace warm-up session was led by Pup Thumper, a licensed counselor and hypnotherapist from Chicago. Afterward the games began with Hedgie Hunt, Alpha Says, Guide Dog and Greased Squirrel Chase. After a lunch break, we continued with Obstacle Course, Cone of Shame, and Drag Race. Dog tags were presented at brunch Sunday to the top three winners of each game.
Pup Pawlympics was fantastic and I am very thankful for the support and participation of so many people & pups. Back in November the idea started to help address the feelings of isolation heard from pups in my area and show them that they are not alone. Being puppy doesn't have a border, so it seemed right to reach out to the regional groups and strengthen those connections. The laughter, excitement, and affection shown during the games were more than enough to make every moment of planning worth it.
— Mal Orion
Participants and attendees also earned tickets for prize drawings. Donors included:  Mr S Leather, two Oxballs toys and two gift cards;  Castaways MC of Milwaukee, Two passes to 39th Annual Run: Journey into the Woods, July 13-15;  North Star Kennel Club, giant teddy bear;  Allen Hollin & Brian Thingvold: A mountain of toys and candy;  IA-PAH: giant gummy bear.  Thank you to our donors for your generous prize contributions to Pup Pawlympics! The attendees loved them.

Lead Pack Special Election
At the February 28 monthly business meeting, a special election was held to fill vacancies on the Lead Pack. The Lead Pack is the board of directors for the club. It has 14 members who serve two-year terms.
Prior to the meeting, Pup Ash! tendered his resignation from Lead Pack. We thank him for his service on the Lead Pack and look forward to seeing him at our events in the future.
Ash!'s resignation left three positions to be filled. With three candidates having applied and being present at the meeting, they were voted onto the Lead Pack by acclamation. Welcome Kodiak, PupKey, and Russell to the Lead Pack!

North Star Kennel Club Launches on Twitter
The North Star Kennel Club launched its presence on Twitter on March 13, 2018.
This is part of our continuing effort to expand the North Star Kennel Club's outreach and meet our current and potential members where they are. We will be using our presence to communicate upcoming events and club updates, as well as interact with the community.
Please join us at @NStarKennelClub!

Give us your feedback and Event Ideas!
Please use our feedback form to give us any comments, suggestions, or questions you might have. These are sent to the Lead Pack and the committees that perform the club's activities. You can find it in the menu bar under "Feedback".
If you have an event that you would like us to organize or co-host with you, please use our event submission form. You can find it in the menu bar under "Events".
Treasurer Special Election
After the Lead Pack election, Pup JP resigned from his position as Treasurer, leaving that important officer position vacant. The Lead Pack followed its procedures for such a situation and elected a new Treasurer.
Welcome PupKey as our new Treasurer. He has over five years of experience in nonprofit accounting, including serving as the Vice President of Finance with Twin Cities Pride.

New Mailing Address
Our mailing address has changed! The new address is:
NSKC
PO Box 580256
Minneapolis, MN 55458

Volunteer Opportunities
Mosh Committee
The Mosh Committee is looking for volunteers to help in the following roles:
setup/breakdown helpers
greeters
guest/newbie liaisons
mosh pit trainers/referees
Pride Planning Committee
The Pride Planning Committee is looking for volunteers to help in the following roles:
float design
float construction
Parade march
Festival booth
Walkies helper
Public Relations Committee
The Public Relations Committee is looking for volunteers to help in the following roles:
club photographers
social media assistants
website updates
We are in need of people who would be willing to take pictures for the club for promotional use. If you don't want to be pictured, but are willing to take pictures, your assistance would be appreciated.


StrictlyGeneric Discount
As members of the North Star Kennel Club you can get 10% off custom chain maille collars, harnesses and accessories, made by our own Pup Nyx, at StrictlyGeneric.com. Order from him in person and mention the discount, or order online and use code "NSKCMEMBERS" for the discount. Your club membership will be verified.